Bridgette Amofah - Not Your Style?
Amongst the untold number of female artists strutting their stuff and garnering their successes, Bridgette Amofah is doing things her way. Having gained her initial singing experiences in a Catholic church (note, not Gospel) she has continued to defy convention. Though having studied musical theatre at the Brit School, her focus was not yet on her vocal abilities. 'I took writing more seriously than singing. I didn't think I was particularly good, just louder than everybody else in the class,' she laughs. Sitting across from this confident, glam-girl-next-door, who was featured in The Times as an artist to watch and supported Candi Staton on tour, it is somewhat difficult to believe.
Upon leaving the Brit School aged eighteen, Bridgette's poetry began to morph into songwriting. Whilst gigging, she was fortunate enough to meet Josh Breslaw, drummer of experimental folk band Oi Va Voi. Luckily for her, the band was on the lookout for a new lead vocalist. 'I went on tour with them and I got loads of performance experience-they gave me the groundwork, then I started writing my own album.'
Around this time the music industry began to take notice and a few labels came knocking at Ms. Amofah's door. 'I recorded a demo and I was writing quite folky songs at the time, I think I was quite inspired by Oi Va Voi and I was listening to a lot of Feist.' Yet, unlike Bridgette, the industry was unable to comprehend a young black female, blessed with soulful vocals and a folky style. Instead of capitalising on her uniqueness, they pushed for a tried and tired route. 'Some of the labels wanted me to go down the r&b route but I don't write in that way and I didn't really like the production. I like live instruments and working with Oi Va Voi made me realise that you can do whatever you want. They've managed to carve a niche and I thought why can't I do that?'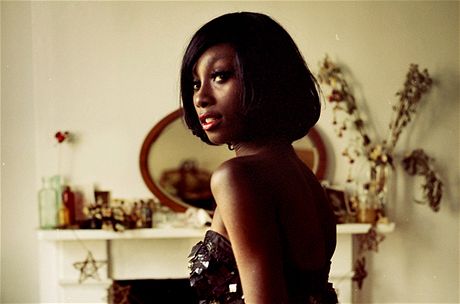 Having decided to stand her ground, fate stepped in again (just in case she was unsure). 'Last year, I was performing at a showcase for The Prince's Trust, and Jay-Z was there. I did some quite folky soul songs, and he came up to me, saying my songwriting was great and asked for a CD, which I didn't have at the time. I suddenly thought if someone like Jay-Z, an urban pioneer, can see what I'm doing and say it's cool, then I must be doing something right. I don't have to conform, and I've carried that with me.'
2009 sees the British-Ghanaian chanteuse release not one, but two singles, What It Takes and Not Your Style, as a double-side. The two songs are different and represent her eclecticism, reminding us that she refuses to be put in a box. Despite moving on from the acoustic-folk-soul, Bridgette has kept the live instruments and the soulful vocals, but has gone back to her theatrical roots. Why? 'I love Shirley Bassey; big singers and big performances. I wanted to be bigger on stage. I wanted to dance and move about and get the crowd moving. I want to perform like it's my last performance.' Still penning her debut album ('I'm constantly working on the concept, but there's lots of great stuff') and touring Europe with Oi Va Voi, Amofah's agenda seems busier than ever.
Though the alternative door for black female artists has recently been propped open (The Noisettes, VV Brown and Janelle Monae), the arrival of Bridgette Amofah may just be the one to kick it down for good.
©
Rachelle Hull, 2009
Published at www.catchavibe.co.uk
Photo credit: Anna Burdick